Your Construction Accident Lawyer for Kansas City Kansas (KC, KS) and Surrounding Areas
35+ Years of Legal Experience You Can Trust:
James R. Shetlar has represented injured victims in the greater Kansas City Kansas (KC, KS) area for 35+ years. He is recognized as one of the "Outstanding Lawyers of America" and other attorneys have voted him a "Super Lawyer" in Kansas and Missouri.
Call Us Today For A Free Case Evaluation.
There Is No Fee Until We Win Money For You.
File Suit Against Your Employer and the Other Contractor:
Injured construction workers may be able to file a personal injury claim in addition to a workers' compensation claim. In these cases, personal injury claims are referred to as third-party claims, claims against a person or company other than the injured worker's employer. For example, the claim may be against another contractor working on the construction site or against an equipment manufacturer. Mr. Shetlar will evaluate all potentially responsible people and companies and give you all your legal options. He will help you get your life back after a serious injury.
Construction Workers are Hurt More Often than Other Workers:
According to Occupational Health & Safety Administration (OSHA), almost 6.5 million people work at approximately 252,000 construction sites across the United States on any given day. The number of deaths for the construction industry is higher than the national average for all industries.
What Causes Most Construction Worker Injuries:
According to OSHA, potential dangerous conditions for workers at construction sites include:
<![if !supportLists]> · <![endif]> Falls from heights
<![if !supportLists]> · <![endif]> Scaffold collapse
<![if !supportLists]> · <![endif]> Excavation trench collapse
<![if !supportLists]> · <![endif]> Electric shock and arc flash/arc blast
<![if !supportLists]> · <![endif]> Failure to use proper personal protective equipment
<![if !supportLists]> · <![endif]> Repetitive motion injuries.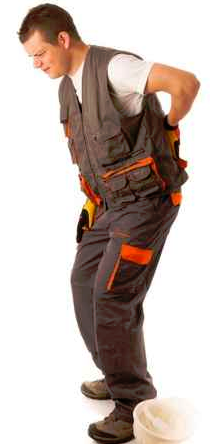 Construction workers who fall from heights often suffer the most serious injuries. According to OSHA, every year falls are the cause of the greatest number of deaths in the construction industry. A number of factors are often involved in falls, including misuse or failure to use fall protection, unstable work surfaces, and human error. Studies have shown that using restraint systems, covers, safety nets, fall arrest systems, and guardrails can prevent many deaths and serious injuries from falls.
Sometimes scaffolding is not used properly or not constructed properly and falling injuries happen. According to OSHA, bout 2.3 million construction workers frequently work on scaffolds. Protecting these workers from scaffold-related accidents would prevent an estimated 4,500 injuries and 50 deaths each year.
Trench collapses cause dozens of deaths and hundreds of injuries each year according to OSHA. Some measures that can be taken to reduce trench deaths and injuries include sloping the trench wall at an angle, shoring to protect workers with supports that prevent soil movement, shielding to prevent trench cave-ins, and a way to exit the trench.
Electrical shock is another serious hazard according to OSHA. Many of electrical shock deaths and injuries can be prevented by having power shut off and grounds attached, lockout/tagout systems in place, worn electrical cords replaced, extension cords with grounding prongs, all electrical tools and equipment being maintained and checked for defects, and devices in place to protect tool users.
Your Construction Worker Lawyer Serving the Kansas City Kansas (KC, KS) Metropolitan Area Including:
DeSoto, Gardner, Leawood, Lenexa, Merriam, Olathe, Overland Park (OP), Prairie Village (PV), Bonner Springs, Edwardsville, Lake Quivira, Paola, Osawatomie, Mound City, Kansas City Missouri (KCMO), Blue Springs, Grandview, Independence, Lee's Summit, Raytown, Leavenworth, Parkville, Platte City, Riverside, Smithville, Claycomo, Gladstone, Kearney, Liberty, North Kansas City (NKC), Belton, Harrisonville, Peculiar, and Raymore.
© 2016 James R. Shetlar, All Right Reserved